This is not exactly a step-by-step tutorial...but several people expressed interest in gaining a better understanding of what I do - so, I took some pics as I worked on a recent project, and these are the results.

1. I purchase glass in large sheets, then cut them down into more manageable pieces, depending on what I plan to do with them.

The colour choices are astounding, so I really have to know what I'm going to do BEFORE I go to the store. Fusible glass is very expensive - a single, small piece (less than 1sq foot) can range from $9-$35 & more, depending on what you choose.

p.s. this pic shows a selection of OPAQUE glass that I use in my "Bloom" Series designs, etc... but for this project, I will be using TRANSPARENT glass to allow for the sunlight to pass through.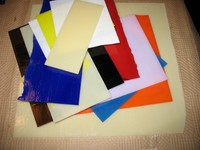 2. Depending on the design I have in mind, I usually find it easier to cut most of the glass that I plan to use BEFORE doing anything else.

I use special glass cutting tools to score, cut & "break" the glass.

I rarely plan out a design on paper - just envision it in my head & go from there.

In this project, I was commissioned by artist, TIM KLINE, to produce glass "sails" to be integrated into one of his functional art wind chimes or sun catcher creations. Tim draws on nature for his inspiration, so that guided my colour choices...and design.

I wanted glass that had a fluid feel with colours that you'd find in the ocean.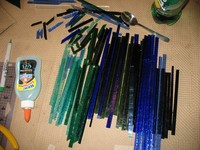 4. Once I've cut most of the glass needed for a project, I begin arranging the pieces in the design that appeals to me, cutting them to size as I go along. I use a base of clear, fusible glass (but could use a coloured piece if desired).
Tim is going to hang these pieces as diamonds, so that is how I arrange the design. I don't glue them on until I'm happy with the way they lie.
The cuts have to be quite precise, or there will be big gaps in the finished piece - NOT a desired result!
5. Now, I glue all the pieces to my base glass. Once this is done, the piece is ready to be fired.
However, I wanted to experiment with a technique using GLASS FRIT, which is essentially ground glass. It comes in FINE (requires mask), Med & Coarse grains. I like the Medium & Coarse variety best.
I've used the Coarse in my Red Sun Coasters & enjoy the textured effect. In this case, I'm NOT looking for texture because it's probably going to be an outdoor piece & will be easier to clean if flat - so, I've chosen med grain, in an seaweed green colour.
I mix it with glue to make it easier to apply and use a tool (no idea what it's called) to place it.
Frit is sold by the ounce (~$2/ounce, if I remember correctly)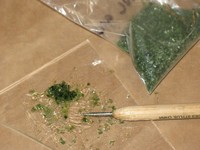 6. The result I'm looking for is to blur some of the harder edges where they connect in the design. I want to accentuate that fluid, watery effect.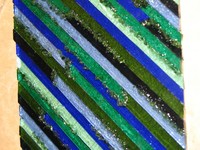 7. Once I've completed a piece, I set it aside to dry, and move on to the other pieces in the set.

Sometimes, I will do several pieces simultaneously, but because this was a new design, I wanted to be sure of the result before doing the other pieces.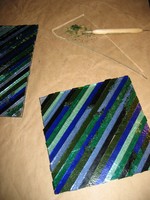 8. Now that I've completed all my pieces, I am ready to fire the glass in the kiln.
This picture shows Tim's 3 "sails", as well as a couple of other pieces I did using the same glass.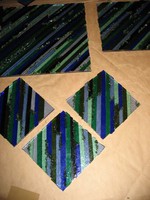 9. So, these are the finished "Sails". The dimensions are 8x8, 6x6 & 4x4. I'm looking forward to seeing how Tim chooses to integrate them into one of him amazing creations!
This is a close-up of one of the sails to better show the effect of the frit in the transparent glass.
I'm very pleased with the results!
I invite you to peruse my portfolio at your leisure! =}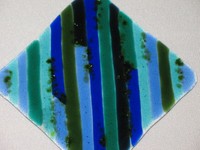 Today's glass fusing tutorial was written and posted on a message board in 2006 by Karen Godin. It is an excellent tutorial for glass fusing and we hope our readers enjoyed it as much as we do.