If you intend to do
any
glass grinding we always advise our students, blog readers, and everyone else wanting to grind glass, to only use a glass grinder that has been specifically manufactured for grinding glass. In the past we have heard of people using Dremels, sandpaper and other tools that are very hazardous for this type of application. It is important to read the grinder's directions and use it correctly making sure that there is always water in it's reservoir and that the sponge rubs against the bit at all times (this keeps any glass particles or dust from becoming airborne! Silicosis is the name of the non-reversible, potentially fatal disease many glass artists and workers develop from inhaling glass dust.
We like to use grinders that don't have a lot of extra features since all we need them for is to grind extra glass away from the edges of our glass pattern piece. It is nice to look for a grinder that has many different sizes of bits available. The larger bits are great for grinding quickly but can't always fit into a small, tight curve. Its nice then to have a grinder that can also use a very small bit for those areas. We find that even the cheapest grinders on the market are excellent and can last an artist many years. We like to use a drop of sewing machine oil on the thread of our bits during installation. We do that so that the bit doesn't freeze and stick on the metal post that holds the bit in the grinder. If the bit gets permanently stuck on that post, the grinder will be ruined.
A face shield is an important feature to use on a grinder, but not always necessary to have built in on a grinder itself. You can buy an excellent separate shield attachment from Morton, called Mr. Splash that also surrounds your grinder, allowing any flying glass pieces to stay within your work area. We also like to place a Morton cutting board under our grinder so that any water that drips from our grinder, or pieces of glass as well, will fall into the plastic Morton board instead of onto our work bench. It makes cleanup much more easier. Basically, you don't want tiny pieces of glass flying up into your face when grinding, thus the shield. You don't want tiny pieces of glass laying on your work surface, since you could possibly scratch up your hand on unseen glass at a later date, thus the Morton System tools.
Examples of Glass Grinders for art glass grinding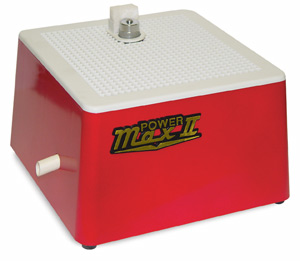 Various grinder bits
Mr. Splash, by Morton Glassworks
Mr. Splash with eye shield